Thaddeus Stevens College of Technology: A purposeful brand

 
SCOPE OF WORK
brand strategy
marketing support for student recruiting

 

annual reports to donors
interactive prospective student portal
lead generation
print ads
outdoor marketing materials
event support
video content
CLIENT HISTORY
Serving students from Pennsylvania, Thaddeus Stevens College of Technology is state-owned and founded with a mission to educate the economically and socially disadvantaged in technical skill disciplines. As a two-year, residential, accredited technical college, Thaddeus Stevens College challenges qualified students to reach their full potential to compete as skilled employment candidates within an evolving workforce. Thaddeus Stevens College started out with a student body of only 15 and has since expanded to educating over 1,300 students enrolled in 22 high-wage, high-skill technical programs. Since its founding in 1905, over 90 perfect of graduates have remained within the Commonwealth. Currently the average graduate has more than five job offers to choose from.
A NEED TO REBRAND
As Thaddeus Stevens College began to grow, they contracted us to study and reimagine their brand and to support further growth in applications and students served. Our challenge was to differentiate the College from other technical schools and four-year institutions.
OUR INSPIRATION AND STRATEGY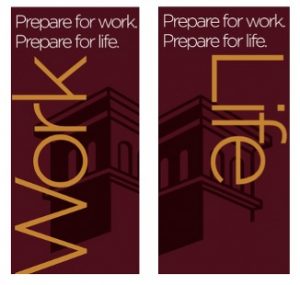 A key attribute of Thaddeus Stevens College is the balanced course load students take as part of their technically focused education. As a two-year college, students could earn a degree not only based on specific technical skill training, but with an equal weight of general education classes as well. This prepares their students to be productive workers and future managers and business owners, as well as productive citizens in their communities. We focused on Thaddeus Stevens preparing students both personally and professionally, creating the "Work/Life" theme to help reflect this brand concept across many communications channels.
The staff and faculty of Thaddeus Stevens also took part in several of our brand research studies, including our unique BrandStorm™ workshop. During this workshop we sought feedback on the Thaddeus Stevens brand both internally and externally to find what would make their brand concept the most effective within their target market. Using the results that we gained from our research participants, we were able to create a stronger brand for the College and the theme for our marketing campaigns.
CLIENT RESULTS
The College is seeing substantial and continual rises in enrollment that have exceeded 15% per year for several years.
COLLATERAL AND CAMPAIGN HIGHLIGHTS
To spotlight the Work/Life theme, we generated a mixture of campaigns ranging from digital to physical materials to aid in our marketing strategy for lead generation, rebranding, and awareness. 
Our digital work included developing an interactive website feature where prospective students could create a unique profile of their interests, showing that Thaddeus Stevens was able to accommodate students with diverse or specific concentrations. Also included in our digital campaign work were numerous banner ad programs and online promotions. 
Taylor Brand Group produced a range of advertising and printed marketing materials to pair with our digital work. These included print ads, admissions collateral, recruiting ads, open house postcards, on campus banners, and more. We also were on hand for several open houses (two per year) and for outdoor campaigns and events for support.